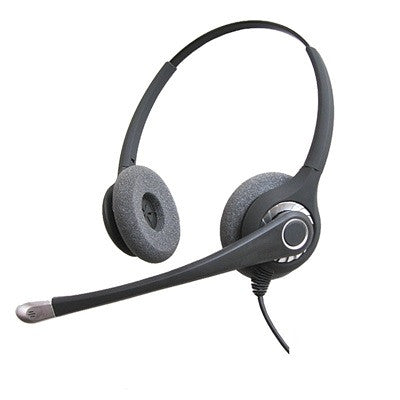 Standard Telecom
Professional 5022 Binaural Headset Over the head style with Connect Cord
---
This headset is lightweight, durable and is made to exceed sound quality and durability standards for busy Call Centers as well as regular office use.
The model 2002 professional grade Binaural headset price includes the correct connection cord. The connection cord is a cord that goes from the 'quick disconnect" to the telephone headset jack connection.
Our headsets are compatible with Nortel Networks, Avaya and Cisco office phones as well as other major phone brands such as Mitel or Polycom that are equipped with headset jack ports.

NOTE: Headsets are considered a 'personal' item so there is no return or exchanges.

Please note: We do not sell cheap, disposable headsets. Our office phone compatible headsets are professional quality headsets designed for comfort, performance and durability. The "Smart Cord" will allow the headset to work with Nortel, Avaya and Cisco phones as well as many other brands. Our prices include: "Smart Cord" connection cord for Nortel Networks, Avaya, Cisco, etc. Many advertised headset prices only include the headset but not the cord that connects to your specific phone. Deduct $40.00 if you are also purchasing the headset amplifier as you will not need the Smart Cord.,

Professional Grade Office Headset.
For use with all Office Phones, the Direct Connect Monaural 2002 Headset is rapidly becoming the headset of choice for call/contact centers across North America. The 2002 Monaural is engineered and manufactured for maximum comfort, durability, and unsurpassed sound clarity. This  "over the head" design features a 36mm digital speaker with our exclusive Audio Clarity Technology™ (ACT) and Acoustic Shock Protection for premium sound performance, offering a safe and comfortable experience for the user.
Price includes Connect Cord.
2 year warranty!
---
Share this Product
---
Other Products in this Category