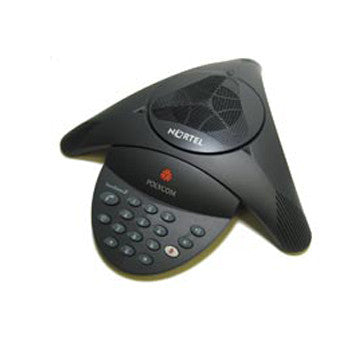 Nortel Networks
Nortel Conference Speaker Phone - NTAB2666
---
This is a digital Norstar conference speakerphone that plugs in like a Nortel Norstar phone. No additional equipment is required.
For a conference call that sounds like a face-to-face meeting, just plug in the Norstar Audio Conferencing Unit!
Nortel Networks Audio Conferencing unit extends voice connectivity to conference rooms and offices with state-of-the-art clarity and reliability. It includes full-duplex technology and a keypad to access all of the conferencing features available from your Meridian Norstar phone system or BCM (Business Communications Manager).
The Norstar Audio Conferencing unit is perfect for small- to medium-sized conference rooms and offices. Just plug it into a Norstar digital telephone jack.
No additional equipment is required. This is a digital Norstar phone that requires no ATA (analog terminal adapter). The built-in keypad gives you easy access to your Norstar conferencing features, like any M7100 set.
Norstar part number NTAB2666
Norstar Audio Conferencing Phone Features:
Exceptional Voice Quality
With incredibly clear voice quality on both ends of the call, the Norstar Audio Conferencing Unit sounds just like a face-to-face meeting.
360-degree Voice Coverage. Three highly sensitive microphones can pick up a voice from any point in a 10' x 15' room. The unit offers the best performance when people are three to six feet from the microphones. But remember: side comments can be picked up from as far away as 25 feet!
Digitally Tuned Speaker. The unit tunes out echoes and background noise and offers a crystal clear sound.
Full Duplex Technology. Voices can be picked up and heard simultaneously -- even interruptions and overlapping dialogue. Conversations sound natural, with no clipped words and no time delays.
Plug and Play
The Norstar Audio Conferencing Unit is compact, lightweight, and easy to move from one room to another. Just plug it in any Norstar digital telephone jack. The Audio Conferencing Unit functions like an M7100 set, with a standard telephone keypad, conference call on/off button, volume control, mute button, and Norstar feature activation key.
Access to Norstar Features
No other audio conferencing system works this flawlessly with your Norstar system. The Feature key makes it easy to use a wide range of Norstar features.
Full Feature List:
360-Degree Voice Coverage
Digitally Tuned Speaker
Full Duplex Technology
Plugs into any telephone jack
Access to Norstar and BCM Features
Answer second call
Toggle between two calls
Selective release 1 of 2 calls
Call hold
Retrieve from hold
Conference - hold conference, split conference, or selective release
Restriction override
System speed dial
Last number redial
End-to-end signaling - long tones or link to host
Accidental disconnect protection
Automatic set relocation
Auxiliary ringing
External line access
Flexible restrictions and overrides
Flexible numbering plan
Forward on busy
Forward no answer
Hotline
Music/tones/silence on hold
Pulse/tone dialing
Restriction override password
Set administration lock
User speed dial
Norstar Conference Phone Specifications:
Audio Conferencing Unit
Dimensions-6cm(H) x 35cm (W) x 33cm (D)
Weight - 0.9Kg
Audio bandwidth - 200 to 3500 Hz
Loudspeaker volume - 89 dBSPL
System power requirements-90 to 110VAC, 60 Hz
Recommended room condition:

Reverberation time - <0.4 seconds
Noise level-<48 dBA

Environmental specifications:

Operating temperature -5 to +40 (Celcius)
Operating humidity (non-condensing) 20%- 85%
Interface Module
Dimensions - 5 cm (H) x 20 cm (W) x 8 cm (D)
Weight - .34 kg
Power - 20 VDC, 150 mA
Cable length to console - 7.6m
Cable length to telephone wall jack - 1.8m
---
Share this Product
---
Other Products in this Category