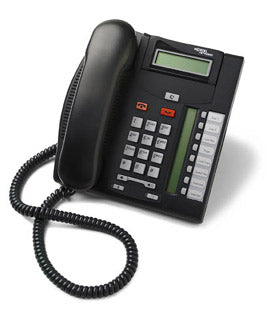 Nortel Networks
New Remanufactured Nortel Avaya T7208 Phone NT8B26
---
Want a NEW Nortel phone ?
If you're in the market for Nortel phones, it's important to understand the key differences between refurbished and re-manufactured options. While refurbished phones are simply cleaned up old phones with a limited warranty , re-manufactured phones undergo a more rigorous process that includes replacement of all worn-out parts with new ones. This means that re-manufactured phones are essentially brand new, offering superior performance, reliability, and a 3 Year Warranty.
Don't settle for refurbished phones that may not meet your expectations or last as long as you need them to. Choose re-manufactured Nortel phones and enjoy the benefits of a smarter, more reliable investment.
Many Nortel phones are over 40 years old, why buy another old Nortel phone?
NOTE: Also consider T7316e phone ($139.00) instead of the T7208 phone.
Will not connect direct to a Bell or Telus line.
Only compatible with Nortel Norstar and Nortel Networks and Meridian BCM50 systems.
Supports up to 6 phone lines and 8 programmable memory buttons


Tilt-display with integrated visual ring/message waiting indicator.

1 line, 16-character LCD window.

Large dial pad, Handsfree operation, Built-in headset jack.

A proprietary phone that is not compatible for home use and will only operate with the Nortel PBX office system
Known as model numbers: T7208, 7208, 7208 BST, NT8B, NT8B26, NT8B26AA, NT8B26AABA, NT8B26AABL, NT8B26AABB, NT8B26AAAA, NT8B26AAAB
---
Share this Product
---
Other Products in this Category